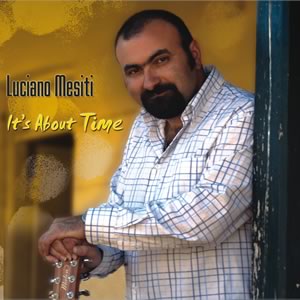 It's About Time is the first album I released.
Some of the songs have short excerpts from them available to listen to as MP3 files.
Fire and Rain – (J. Taylor / EMI) 4:04

Audio clip: Adobe Flash Player (version 9 or above) is required to play this audio clip. Download the latest version here. You also need to have JavaScript enabled in your browser.




Baby, Now That I've Found You – (T. Macaulay & J. Macleod / BMG) 3:34
Wild World – (C. Stevens / EMI) 3:38
Everybody's Talkin' – (F. Neil / Universal) 4:44

Audio clip: Adobe Flash Player (version 9 or above) is required to play this audio clip. Download the latest version here. You also need to have JavaScript enabled in your browser.




Love is in the Air – (H. Vanda & G. Young / J. Albert & Sons) 4:39
Empty Chairs – (D. McLean / Universal) 3:31
I Can't Make You Love Me – (M. Reid & A. Shamblin / Rondor, BMG) 4:37

Audio clip: Adobe Flash Player (version 9 or above) is required to play this audio clip. Download the latest version here. You also need to have JavaScript enabled in your browser.




Crying – (R. Orbison & J. Melson / Sony, Universal) 3:57
Will You Still Love Me Tomorrow – (G. Goffin & C. King / Warner, Chappell) 5:58
Just the Two of Us – (B. Withers, W. Salter & R. McDonald / Warner, Chappell, Universal) 4:12

Audio clip: Adobe Flash Player (version 9 or above) is required to play this audio clip. Download the latest version here. You also need to have JavaScript enabled in your browser.




The Water is Wide – (Trad, arr. Mesiti) 3:27

Audio clip: Adobe Flash Player (version 9 or above) is required to play this audio clip. Download the latest version here. You also need to have JavaScript enabled in your browser.




You Raise Me Up – (R. Lovland & B. Graham / Peer Music) 4:12

Audio clip: Adobe Flash Player (version 9 or above) is required to play this audio clip. Download the latest version here. You also need to have JavaScript enabled in your browser.




When You Say Nothing at All – (P. Overstreet & D. Schiltz / Universal, Origin, EMI) 5:23

Audio clip: Adobe Flash Player (version 9 or above) is required to play this audio clip. Download the latest version here. You also need to have JavaScript enabled in your browser.




You Can Close your Eyes – (J. Taylor / EMI) 2:39
Thanks to my family, friends and everyone who has supported me over the years.
To everyone who performed on the album, a big thank you!
Special thanks to:
Kim and John for all their creative, inspiring and wonderful work on the album.
Andy and Greg for their amazing spirit, endless creativity, making the studio work so much fun and for bringing the album to fruition, and to Denise for her wonderful meals.
Yarramundi Music Club for the opportunity to perform and share my music.
"Armonia" for sharing some beautiful music with me over the last few years
Grant and Mike for being great friends and talented, creative musicians.
Carmel for her beautiful voice and sparkling presence, thanks cuz!
Martin for his friendship, support and superb photography.
All Rights Reserved AMCOS. Unauthorised copying, hiring, lending, public performance or communication to the public prohibited.
Ordering a copy of the album may be done through the "ordering" page on this site.